13 May 2021, 10:46
Recently, Singapore Press Holdings (SPH) has emerged as a hot topic amongst the investors' community in Singapore. After the controversial "Umbrage" press conference to hive off its media holdings into a new company limited by guarantee entity, the stock dropped down by 15% within that session. Does this represent an opportunity to buy or is SPH a long cancerous cell waiting to implode?
With the hiving off of its media division, which has been losing advertising dollars to the likes of Facebook and Google, SPH has now become a pure-play real estate company. Ever since technology has disrupted the media industry, it has been losing its main income generator aka advertising to tech giants like Facebook and Google.
In fact, the newspaper business used to be one of Warren Buffet's favourite businesses. However, he has long since exited the industry when he sold Washington Post after holding on to it for many years. In addition, the Graham family who had long-owned the Post had sold off their stakes to Jeff Bezos of Amazon. With the rise of internet, it has become increasingly difficult to monetize news. People expect to read news for free on the internet and hardly anyone buys physical copies of newspaper to read nowadays.
Therefore, taking an objective view of the SPH situation, hiving off the money-losing division of media could be a good thing for the company. With almost half of its business losing money, it is not hard to see why its stock price plunge from the heady days of $4 to the recent lows of $1. In fact, I must say diversifying into the property business had saved it from going out of business. Some investors might have already anticipated this action and might be one of the possible reasons why SPH stock price went up from Nov 2020.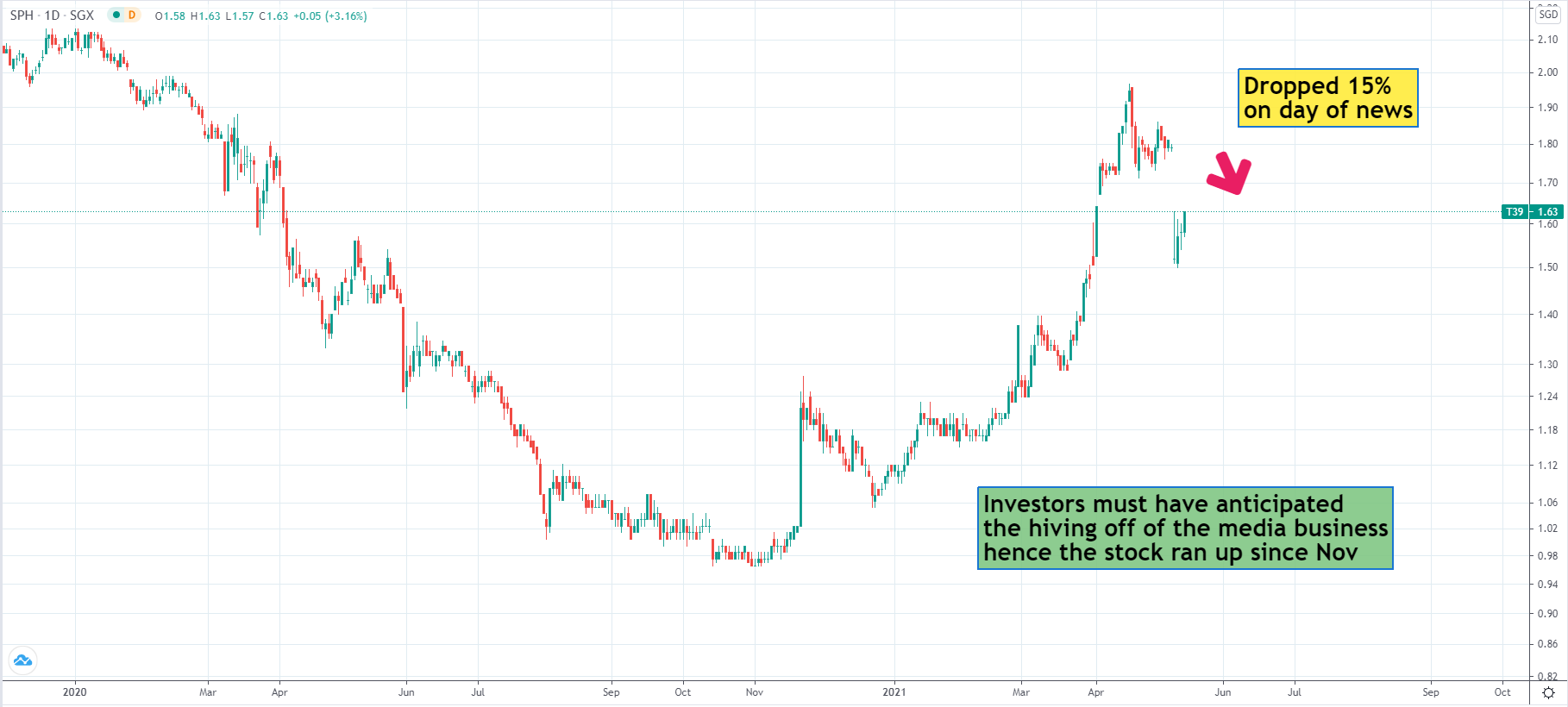 However, does it make sense for SPH investors to keep investing in it for the long-term? When it comes to long-term investing, one must question the opportunities for the company to continue growing.
Now, as a property company, could SPH grow its share in the highly-saturated Singapore market? Let's talk about its market share. Compare with property giants like CapitaLand and City Developments, SPH being a late player in the market commands only a small share of the entire market.
Could SPH emerge as a property giant and gain market share at the expense of the big boys? I don't think so. Could the Singapore property market expand any longer? Yes, it could but I don't think we will see the heady days of the 1980-1990s when Singapore witnessed a property boom. Therefore, in our view, the fundamentals of SPH's business are now sitting on shaky ground.
In addition, if inflation starts to rise when the world recovers from Covid-19, Central banks would be hard-pressed to raise interest rates. After printing so much money last year to tide over the pandemic, we could potentially see fast-rising inflation being the next danger the world has to face. With potential increase in interest rates, will property sector be affected?
Would it still be wise to invest in SPH?
Any information, commentary, or statements ("Information") provided here are purely the opinions and ideas of EmSociety and is created for general information/ educational/ study or research purposes only. The author does not hold any shares in SPH. Please refer to full disclaimer here.