9 Jun 2021, 11:15
Here's the story:
Baidu (BIDU) had been going up strongly since the beginning of 2020 as most stocks recovered after the Black Swan event in Mar 2020. Investors became complacent as Baidu's profits continued to soar on the tide of rising advertising revenue as well as some small contributions from non-advertising revenue sources as Robin Li ventured into developing AI. Everything seemed rosy for BIDU.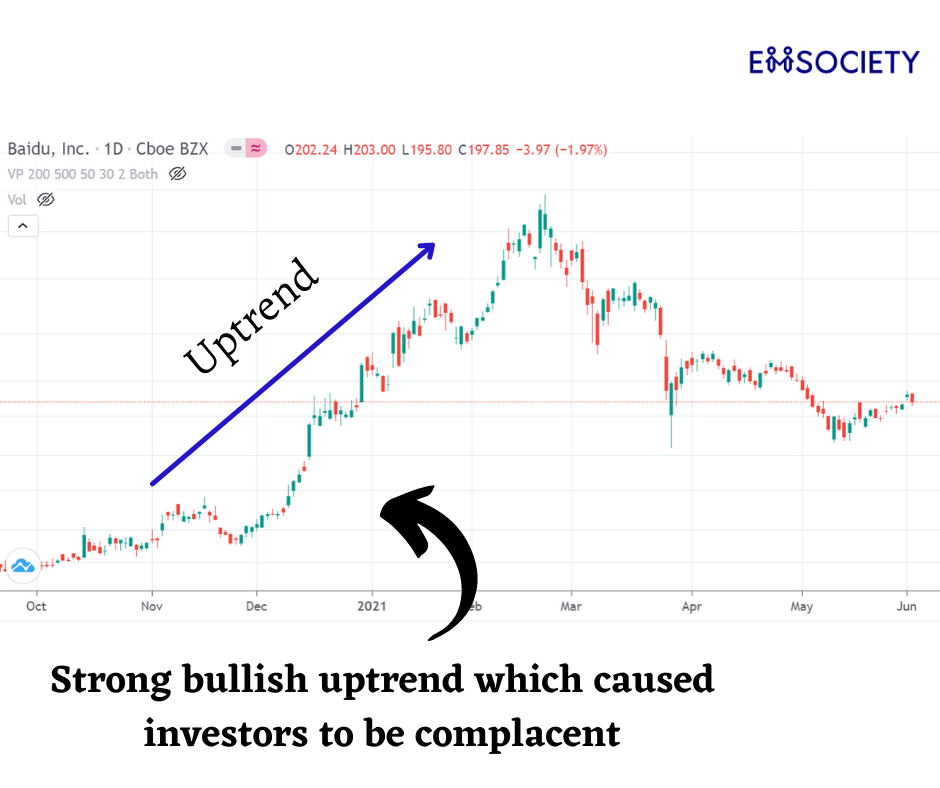 Things started to get exciting in 2021!
However, by Mar 2021 this year, we started to see BIDU's bullish momentum stalling when BIDU reached its high of about $360. That was also the turning point whereby investors who bought BIDU back in early 2020 at a great bargain started to take profit.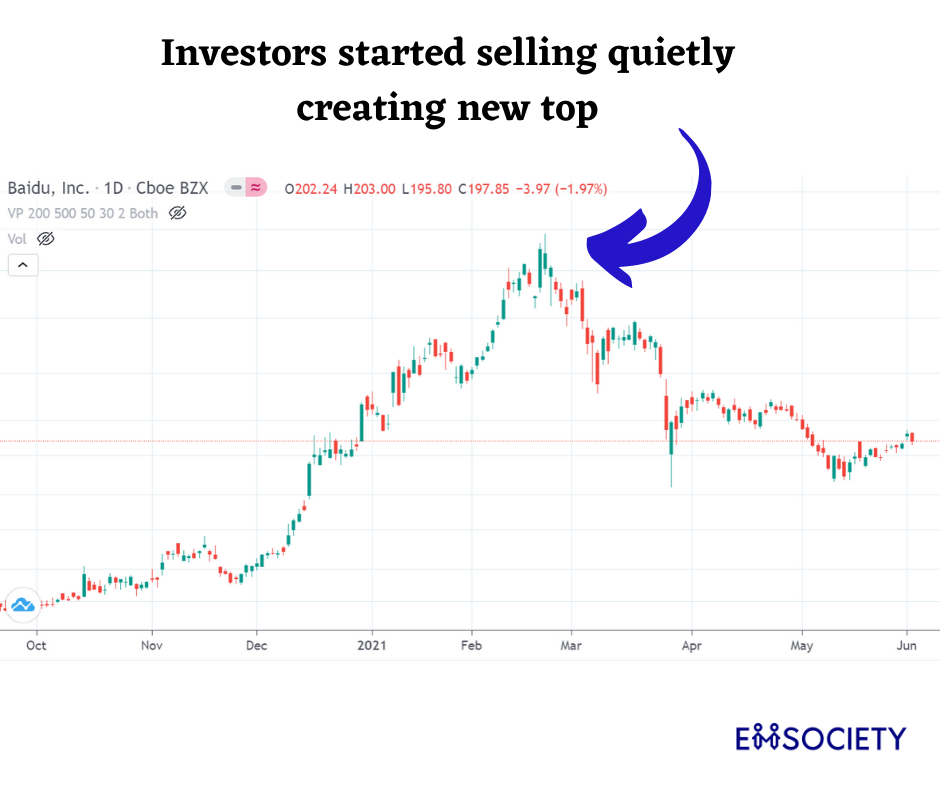 The story continues…
However, after a brief correction, we saw that the stock could not go any higher and BIDU created a lower top instead. This was when, we suspected that the selling pressure got intensified. This deepened our suspicion that the tide had turned bearish on China tech stocks in general.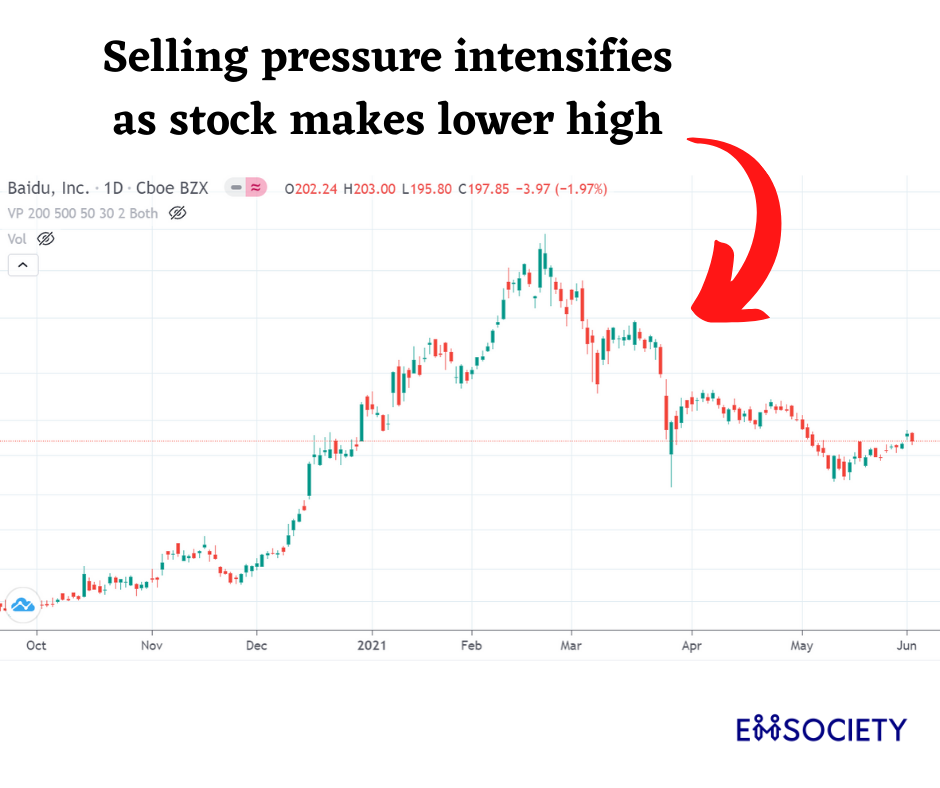 Here's when we got into action!
True enough, BIDU created an infamous bearish pattern called the head and shoulder. This pattern was also formed before the last financial crisis in 2008. This got us ready to begin short-selling BIDU. When the stock price broke below the black support line, we began short-selling at $214.
What is short-selling?
Short-selling is a process which allows you to make profit when the stock price is falling. Basically, you borrow the stock from your broker to sell it to the market at a higher price. Then as the price falls, you have to buy back at a lower price to return the stock back to the broker. You basically make the difference between your higher entry price and lower exit price.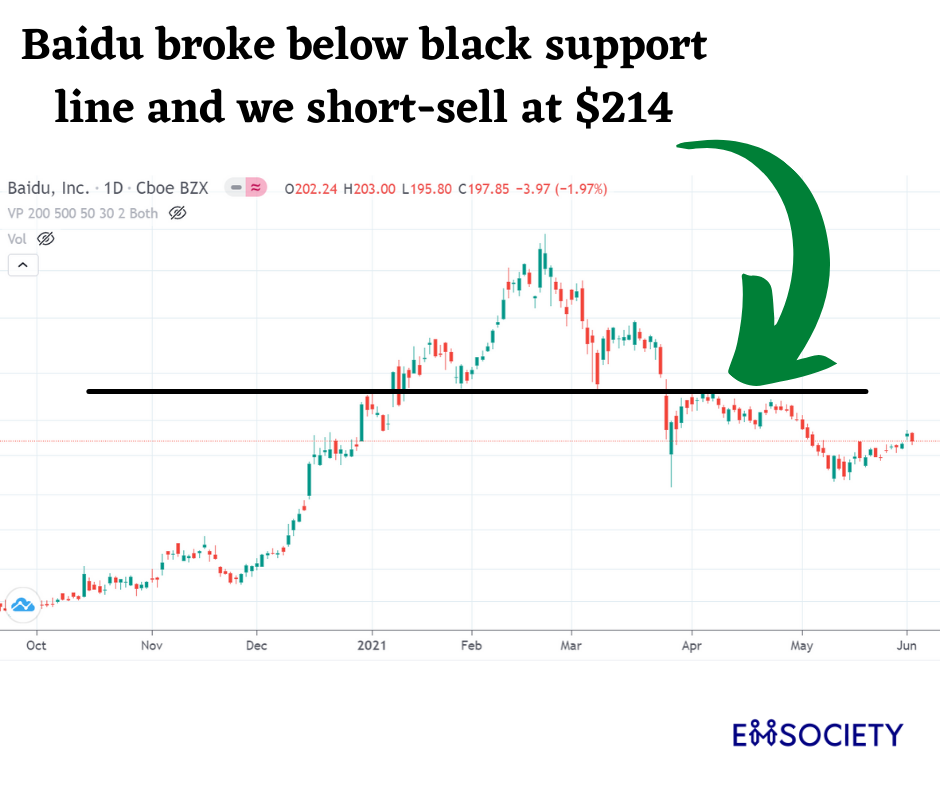 Here's some breaking news…
As BIDU continues falling, unwelcome news of the Chinese government cracking down on the activities of Chinese tech companies started to surface (Point 4 in chart). Reports of Chinese Tech CEOs lying low or resigning from their posts began appearing on news bulletin. This sent bearish sentiments among investors on Chinese tech companies which worked in our favor as we had already shorted BIDU and are sitting on handsome profits.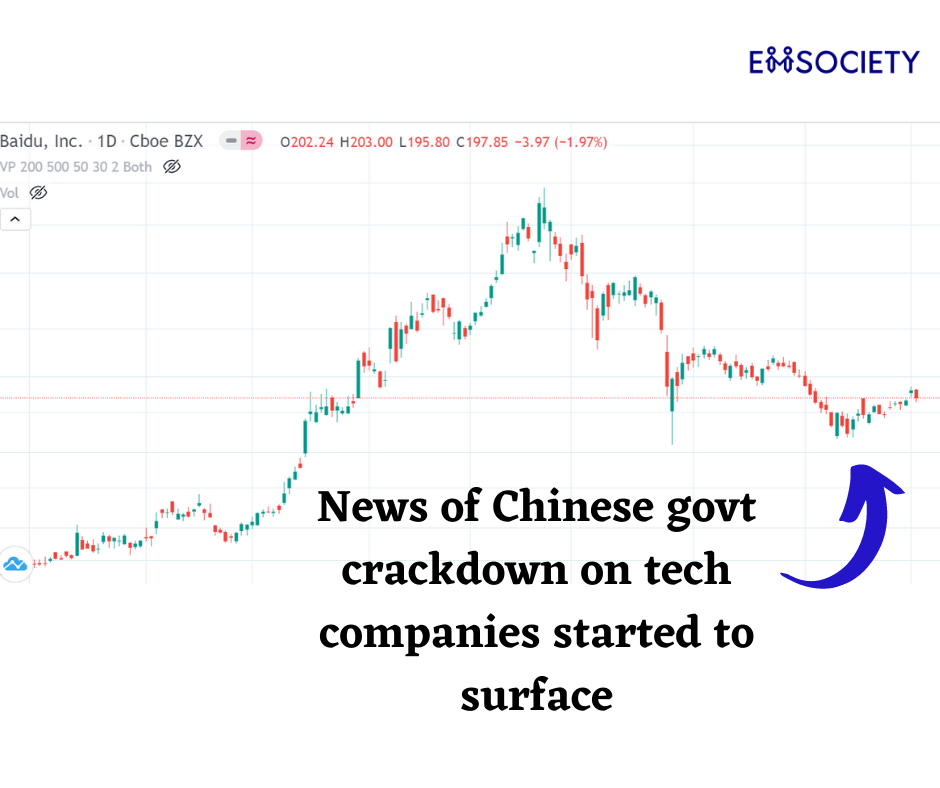 We finally got out with some profits!
After BIDU dropped down to its support level at $190, we saw some buying activity amongst the investors again. They probably decided that BIDU had dropped low enough and it was finally time to buy the stock again. That's when we decided to close our short-selling trade and got out with our profits.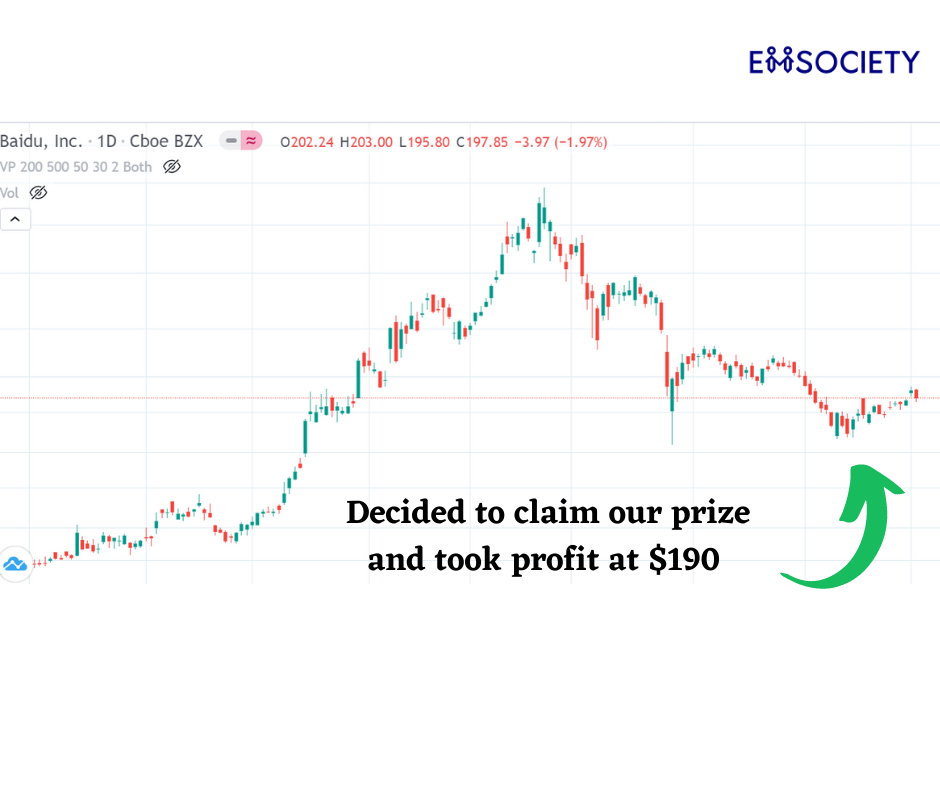 Our Score Card:
For less than 3 weeks work, we made a profit of 10% from this short-selling trade on BIDU when the price fell.
Entry Price: $214
Exit Price: $190
Profit: 10%
Lesson you can learn here:
You can make profits even when the stock price is falling.
You can check out our YouTube video on how to short-sell in the link below!
https://www.youtube.com/watch?v=meRnOJ1s1r0
Another important factor is that you will probably have missed the boat if you have waited for the news to happen. Hence, the reasons why most professionals will urge you not to rely on news for your investments and trades. If we had entered after the news of the Chinese government crackdown, our profits would be lowered. Good trading occurs when you enter on the right trading patterns and exit before the herd arrives.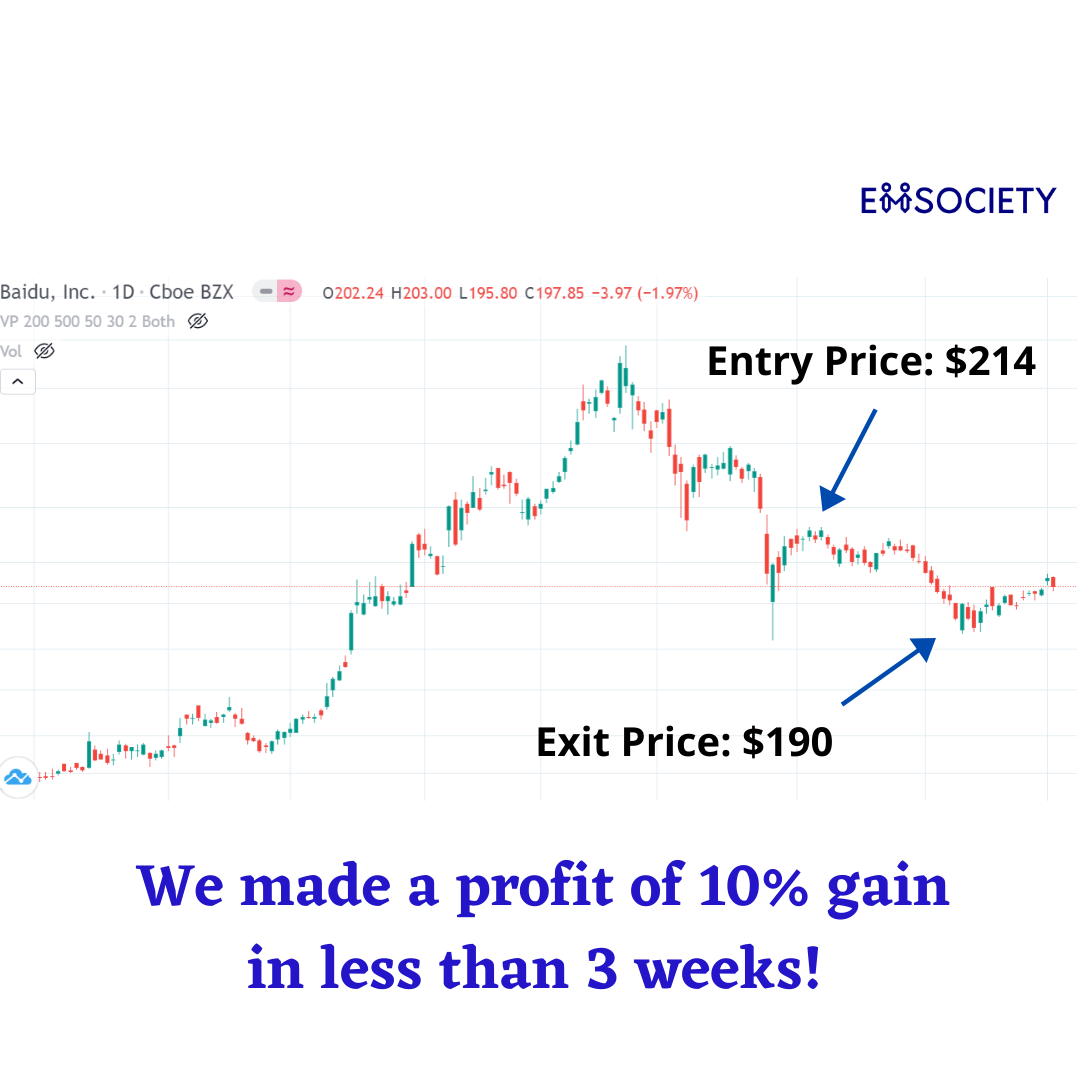 Join our community!
To get more regular market updates, insights and strategies, simply join our community list by clicking here now!
EmSociety is a community that aims to empower you with knowledge & strategies to confidently invest in the financial markets as well as our vision of making financial freedom accessible to everyone.
If you have any queries, feel free to contact us at [email protected] for a complimentary 1-on-1 consultation.